This year, our special holiday gift guide is in honor of the thing that kept us sane during this dumpster fire of a year: BOOZE. Whether it was the delicious bottle glass of wine we drank at dinner, that stiff cocktail we needed after a long day at work or all that craft beer we had at one of the hot new breweries in town, this year was the year of #DRANKS. And since we're def not alone in our love for booze, we curated a unique guide with 10 gift ideas under $50 for the bad and boozy people in your life.
So get ready to pour one out for the homies (and yourself, because 2017 has been rough) and give the gift that gives us all so much (minus the hangovers…we can do without those).
Apparel: $15.95+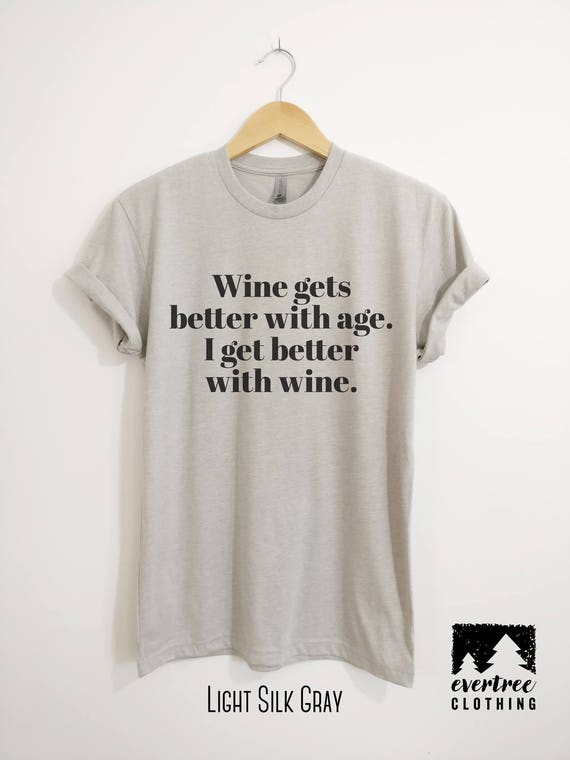 Graphic tees are so in right now, and the ones with clever alcohol-inspired statements are always relatable and funny AF. Like the "Wine Gets Better with Age. I Get Better With Wine" top ($15.95) from Etsy.
More options from one of our fav meme accounts and online shop, Women Who Love Wine (WWLW), include this "Cozé with my Rosé" tee ($29) or specialty "Hangover Club" leggings ($19). Use our code: GT15 to receive 15% off sitewide, including sale items.
Holiday Wine Glass Set: $24
Red or white? Doesn't really matter, because WWLW still has you covered. While entertaining guests, this wine glass set will help your wine loving besties put the "ho" in holidays! The glasses are available in sets of two ($24) or four ($40) with cute mottos for your boozy buddies. Don't forget that discount code!
Cheese Board, Wine and Knife Set: $29.73
Feeling generous? Add this awesome cheese board, wine and knife set to complete the perfect gift for the vino enthusiasts in your world. Not only does Amazon offer unique shapes and styles, but different sizes, as well, so you can get a family-sized one for your wifed-up sis who loves to host dinner parties and another, tiny one for your bestie who's #singleAF. With all the wine they'll be indulging in this holiday, they'll be sure to put this practical gift to good use. Plus, for all the slackers out there, you can PRIME that ish and have it in just two business days.
Coffee Tumbler or Mug: $14.95+
This gift is perfect for the individual who's not so boozy but still loves to get some kind of drink on. Drinkware is a great gift to personalize and Etsy has so many options, including the Iced Coffee Tumbler-Mug ($8). Another website, called Totally Good Time, sells items with cute catchphrases, such as the Golden Girls "Picture, It Sicily 1922" mug ($14.95). If Betty White and the Golden Girls gang can't convince you to drink your morning brew, I'm not sure what will. And hey, if they decide to spike their coffee, we won't tell!
The Art of Mixology Recipe Book: $10.54
This masterpiece of a book is both a personal favorite and lifesaver. Not only does is specify certain equipment for specialty drinks, but it gives easy to read step-by-step instructions on how to make classic cocktails and creative concoctions. While you might be craving eggnog on the 25th, this book allows for year-round recipes for any occasion.
Wall-Mounted Bottle Opener: $29.95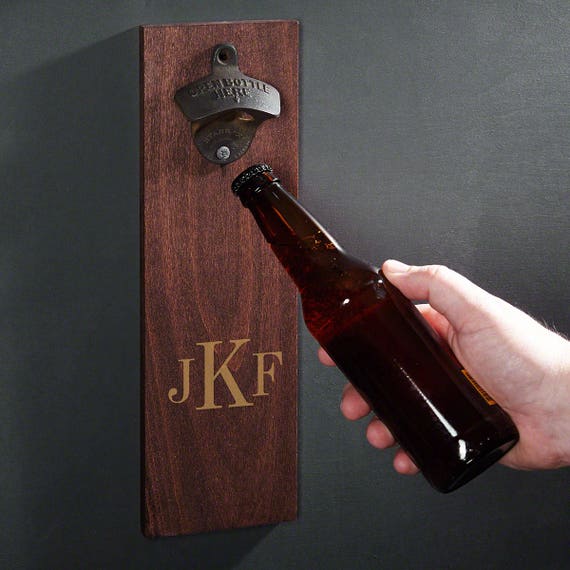 Etsy has so many choices when it comes to these bottle opener contraptions, but who doesn't love a good monogram? While mainly marketed toward men (they need presents too, ya'll), the customization option makes it easy to design a bottle opener fit for any beer lovin' member of your squad.
Jewelry: $19.99+
Since jewelry is arguably one of the best presents to get a woman, this option might just be what that special someone is missing. If you love the idea of a flask but want to be a bit more subtle, the Bracelet Bangle flask ($19.99) makes the perfect accessory. Just remember, diamonds aren't always a girl's best friend.
Spirited Candles: $24
If your loved ones are into candles and also enjoy a glass of wine in the bubble bath, this gift is the best of both worlds. As advertised, these homemade candles "fill the room with notes of signature spirits for aperitif-lovers and resident mixologists." It's the alcohol-aromatherapy mashup we never knew we needed.
Happy Hour Flask: $40
For those that like to take the party on the go this unconventional Kate Spade money-saving flask is a great gift. Whether your friends are hitting up happy hour or just need to sneak an extra sip at the office Christmas party (we've all been there), this gift is your atypical to-go cup. And just in time for New Year's Eve, when a drink at the bar costs more than your rent!
Hangover Gift Basket: $15+
We all have that one friend who, no matter how much he or she drinks the night before, is always nursing a hangover that not even bottomless mimosas can fix. A hangover gift basket allows creativity, but also an excuse to get a little mischievous. By including the Bytox Hangover Patch 5-Pack ($15) and Hangover Tea ($25), you will not only be supporting your friend's liver (God knows they need it) but they'll feel extra grateful that you exist when that hangover kicks in.
Cheers to the reason for the season (the hard stuff, that is). Happy shopping my fellow gift givers, and happy holidays!